A story on how the pandemic has changed Barcelona's gastronomic landscape

How some chefs are dealing with the situation in a creative way, creating new opportunities, and exploring new roads.
By Idania Serrano/ Lovelyeating
The figures are not only numbers that news reporters declamate on our computer screens. Now, just about the end of the infamous 2020, the gastronomic landscape in Barcelona has completely changed. This year legendary restaurants have shut down their doors, such as La Cuina de l'Uribou, and the called wine temple: Monviníc, a place that is close to my heart.
It seems as if it were a dream to think that exactly a year ago, I would wake up at 5:00 am to go to work as part of the production team in the kitchens of the restaurants' Dos Palillos and Dos Pebrots. Things were going pretty well at the starred restaurant, so good that for the first time there was a specific team to perform the most mechanical tasks and essential of the day by day. Normally we were a team of four, and between our regular tasks, we would make bread, mochi, chopped between 150 and 300 grams of garlic until it was almost microscopic, and divide an impossible amount of sprouts from different aromatic plants. The working day would last until five in the evening if we were lucky or until seven in the worst of cases.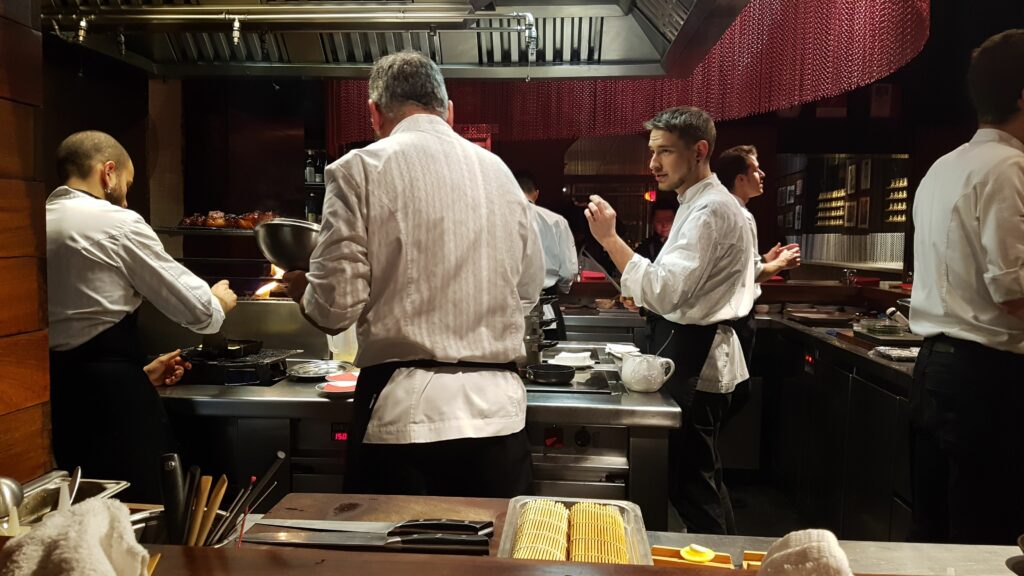 Dos Palillos kitchen, November 2019
A little perspective
Things have changed so much! Today there is no production team. And the kitchens of both restaurants, formerly crowded with cooks brawling for the counter space, now are being used by small teams. These teams are now working on something that was unthinkable 365 days ago, especially in a starred one.
In the last census conducted by Barcelona's city council, in 2017 there were 2.267 restaurants, not counting bars and cafeterias. Statistics are not yet up to date, but we can foresee a grim scenario. Some sources suggest that by the end of the pandemic between 40% or 50% of these types of businesses will close. In an interview for the media TRECE, Emilio Gallego, general secretary for the Spanish Businesses Confederation, anticipates that 100.000 restaurant related businesses could close in Spain, which would translate into approximately 400.000 job losses. In July, in an article at the Expansión journal, José Luis Yzuel, president of Hospitality in Spain, calculated that the losses for closing 65.000 business would amount to losses of 67.000 million Euros approximately.
But (there is always a but) in this context of unimaginable crisis, I am sure that there will be something positive to extract from, at least a life long learning.
As an example that necessity is the queen of creativity and in creativity there is innovation, I interviewed two chefs with whom I have had the opportunity to collaborate and/or work, Pablo Muñoz and Domenico Maglione. Thanks to social media I was able to see how they were doing new things and I was curious about how they were dealing with the current situation. I met both of them before the pandemic and saw what had been their previous work, so I have some perspective on how their situation changed.
Prelude
Pablo Muñoz, who is one of the most versatile chefs I know, as he has not only worked in different restaurants in Spain and Argentina. He has, just like me, a background in sociology, and in the years before the pandemic, he was working as a Gastronomic Consultant. He believes there was already a crisis in the restaurant business world in Barcelona. "Afterward the Ramblas terrorist attack in 2017 we had a big economic drop that affected our labor sector. Due to my experience, I could grasp that being only a chef or a cook was not enough to keep with the market. As the economy was low, employers started to look for cheap labor. This was obviously very harmful to the professionals, as they weren't willing to pay our salaries."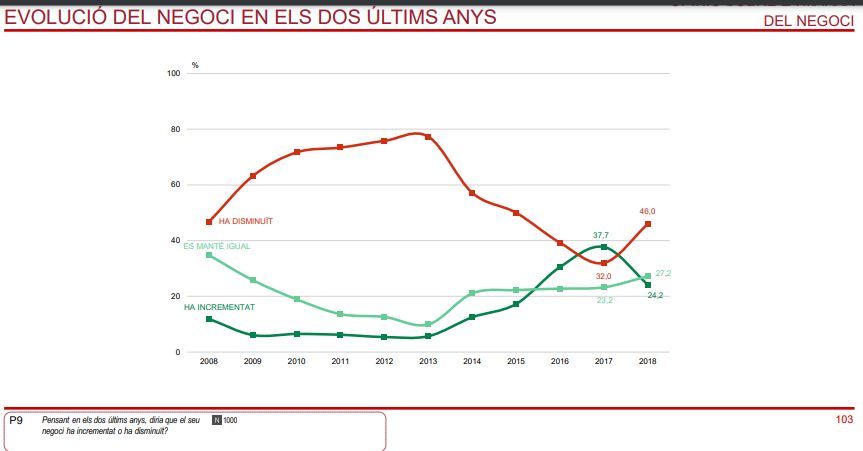 In this chart, extracted from the annual report regarding the restaurant business sector written by Barcelona's city council, we can appreciate a drop in the evolution of business from the year 2017 to 2018, which had been previously steady. It is palpable the economic impact that the attack had in the city, particularly in the city center. I must confess, being a positive person, I thought this wouldn't last long. But the conversation with Pablo opened my eyes to a small gut intuition I had not yet processed, being a chef or a professional cook had lost its glamour in the Catalan capital.
The work involved being a cook, it is not only about preparing tasty and good looking food. A professional cook must dominate the arts of quality-pricing, juggle the recipes in order to avoid waste, come up with a menu and a coherent gastronomic offer, and so on.
"That is how it started a decline in the gastronomic quality within the city. Great chefs started to migrate to countries where the job is paid in accordance with what we do, many of them left, for example, to England." Pablo asserts.
But instead of moving outside, he identified an opportunity, a blue ocean in business terminology. He realized that the lack of training that comes from hiring cheap labour would bring some issues to the owners, and this gave him the chance to reinvent himself. Thanks to this and his long experience he started to work as a gastronomic consultant. "At the beginning providing basic training, such as teaching how to cook the basic broths and sauces. And explaining and teaching protocols, how to elaborate technical charts, how to economize when creating a dish, how to buy for a restaurant, etc. The market was in such a need for this that I was successful until the Covid hit."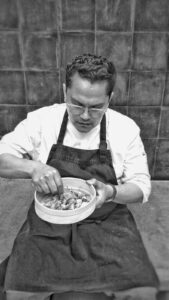 Chef Pablo Muñoz enjoying one of his dishes
Delivery
A little humility is always good for the soul
We were in the middle of lock-down in mid-April, when I found a Mexican journal. La Jornada from 31 January 2020 whose headline said something like " The WHO cautions against the danger of the spread of the new Coronavirus". After my initial confusion, I realized that this headline went completely unnoticed by me, so much that on the 10th of February I was on an airplane for a short trip to Italy. It seems that my ingenuity has been shared by the rest of the planet, except the WHO scientist. The Pandemic was declared in Italy just a couple of days after my return and in Spain almost a month after, and it gave the impression that without a warning.
The closing of bars and restaurants gave a well-needed pause to the restaurant workers, allowing them to create online networks. Pablo described these first months "At the beginning of the lock-down it allowed us to have time to think about what we were going to do next. A lot of people in the sector started to create online meetings and social media live events, this way a community was created than otherwise had been impossible. As normally we work between 10, 12 or more hours in the kitchen.
The biggest subject was Delivery, and it was always referred to with a lot of resistance, as it has always had a shabby connotation. Many businessmen talked trash about it and we, the cooks, continued holding up the gastronomy flag, I must admit, with a lot of arrogance.
Delivery had been a trend already for a little while, but it was during the pandemic, with the closure of many restaurants and the limits imposed on those who kept open, that the owners had two options: closing definitely their doors, or swallow their pride and start doing just exactly what they have been for so long criticizing. Already in May, the chef Dabiz Muñoz launched his own delivery brand, and others, such as Quique Dacosta, were about to introduce their own offers to the market. For me, the big shock came when Compartir & Disfrutar joined Glovo. The sense of self-preservation is making that today delivery is becoming more and more common.
Domenico, who was my boss during the time I spent doing my internship in the service team at Dos Palillos, explained how this experience has been within the walls of the starred restaurant. "The main thing today is that the restaurant survives. The accountant recommended Albert (Raurich) to close, declare bankruptcy and with this, he wouldn't have any legal responsibilities to pay the providers nor the workers. But he decided he wanted to fight and save, first of all, the restaurant and then the jobs of the team
I think right now we must forget about the (figuratively speaking) professional chef hat. Here and now we have to work and do whatever we have to in order to make ends meet. Currently, at Dos Palillos we are cooking food just for delivery, and as much as is not what I like to do, it is a new experience."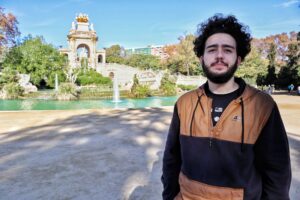 Domenico Maglione at the Ciutadella Parc, a few hours before starting his shift. November 2020
Opening unexpected bridges
The ERTES (an ERTE is a labor flexibility measure that allows companies to put on "standby" their workers and part of the salary is covered by the Government) are a good help but they are not enough. Generalizing, the maximum one can collect being in ERTE is 70% of the regular income. The base salary of an average cook, according to the Interprovincial collective agreement of the hotel and tourism industry sector in Catalonia is around 1.360,02 € gross. Taking away taxes, a cook earns around 1.360,02 € net salary. A typical ERTE pays 952 € per month, and as Domenico says "It does help, but it is not enough to cover all the costs, only in rent we pay 850€ per month, I also have a car, three dogs and my girlfriend is not working right now."
For Pablo the thing got a bit trickier, his partner, who is also a cook, is now waiting for a trial, as she was fired without a basis, and she is still waiting for an ERTE that still does not arrive. At last, they have been getting some family support. Pablo remembers "When we were in the middle of lock-down, my wife figured it out and suggested we started doing delivery. Something simple, home cooking. I honestly wasn't convinced, I had been criticizing delivery for months, and now: I was going to do just that? When it reopened after the first lock-down, I was called to work in a Bar in Badalona. I thought that at least I would bring some cents at home.
And it was the kind of place in which they make tapas as if the world was about to end. We would make around 120 tapas in a 2 square meters kitchen prepared with the lowest quality produce: fried food over fried food all made in a domestic fryer. They hired me telling me they needed an executive chef, and the remuneration was of 8 euros per hour. I felt as if I had gone back in time to the beginning of my career in Argentina. When you are young and they can take you for a ride, so to speak, that they could ever need an executive chef in a dodgy tapas bar. I was not even earning 50 euros per service and I felt devastated. I asked them for a raise, one euro more per hour, but they refused. That same night I told my wife that I would rather try delivery than to keep feeling exploited."
Pablo explains that this is how Clandestine Family Kitchen was born, a family project that even his daughter participated in creating the logo. "The main idea of this project is thinking that we normally cook a dish for lunch, Why not prepare for 5 or even 10 more people?, and with this we can at least cover our food expenses". I love this family project as this is one of the biggest sacrifices of cooks: quality time with the family. Working in a kitchen is sadly most of the time linked to almost no free time.
Their offer is very simple, only one dish a day and only for the people near them, in their neighborhood. Right now they have regular orders, the worst days they have only a couple and the bests between eight to ten. It is also a project open to other cooks, so they can create a network, each working of course in their own neighborhoods. And not only that, Pablo and their family consider this to be the seed of their future restaurant, a dream they hope to launch in a few years, they hope this helps them to have already an established clientele by that time.

From Instagram: @
clandestine_family_kitchen
I'm sure that from this pandemic great projects will emerge, as it is an increasing trend that many professional cooks are launching their own projects.
At Dos Palillos they are doing delivery a couple of days a week, Domenico highlights "I had never ever made food to put in a package, and it is truly very interesting as we have to test everything and verify that it holds up well after an hour. And also to think in a different way of plating. There are many new things that I had never tried before. For example our mochi, we had to modify a little bit the recipe and now we are using gelatine as the whipped cream doesn't resist. All of this helps us to research, create, and just to improve in general."
I think one of the best bets that the Dos Palillos has done is that every delivery order has to be placed 24 hours before. This allows them to avoid any waste and also unnecessary extra costs.
Furthermore, without having to work long hours Domenico has been able to try different experiences. Such as working for a week as an on-board private cook on a sailboat of 14 meters. "I cooked for a week in a tiny kitchen, with a camping-gas stove. I managed to create elaborated dishes, like the siphon tiramisú, that they really loved. Additionally, I was then referred and hired for a private event a few weeks after. All of this has inspired me to create my own project. I want to bring to Barcelona the Gnocco Fritto, an Italian dish from my area Emilia Romagna. Now I'm working on the details. I am dying to go back to the hectic work inside the kitchen at the service rush. I love the adrenaline, but I am happy to have the opportunity to try new paths."
A certainly uncertain future.
Nowadays the Delivery Companies dominate the market, and we know that they will keep a big piece of the cake once the pandemic passes. They anticipated and understood how to take advantage of a trend in an unexplored market. Pablo states "Glovo and the other companies did a great job opening the market and documented the clients, they also digitized it. These days they control the market, if you use the delivery service, they keep 35% of each order, also there is an annual fee. And furthermore, now they have dark kitchens, where you can rent a spot and cook from there. It is a very neoliberal way of thinking, but also very clever."
I think there is an important challenge, but I trust and I'm enthusiastic about the future of gastronomy, one that is closely linked to the territory and more personal. We will have to find new formulas that allow the cooks to spare the necessity of the delivery companies, or at least to negotiate better conditions.
Now it is time for the restaurant professionals to take as much advantage of this crisis as they can and explore, learn, and develop new concepts and opportunities that revives and arises high-quality gastronomy.